The revolutionary all-in-one auto-Retractable leash & Harness
The patented all-in-one leash and harness, the FreeRun Leash™ was designed to revolutionize the way you spend time with your dog outside. Combining the highest quality materials with ergonomic comfort for both of you, with FreeRun you will never fumble for the leash again.
All-In-One
The all-in-one FreeRun Leash
No more looping a dusty or muddy leash over your shoulder, no more tangles as your dog meets a friend on the trail, no more clunky handles to carry.  Your dog can run free without risking injury and be back on leash in a moment when needed.
The FreeRun Leash is a lightweight, auto-retractable leash and highly adjustable harness, all in one highly functional unit.
BUY
No More Tangles
No more tangled leashes when meeting another dog on a traditional lead.
No More Harmful Bacteria
Leashes that touch the ground can transport hazardous bacteria and other microorganisms directly to your hands.
Comfortable & Durable
Leash housing made with ultra strong molded plastic and stainless steel parts with a soft grip handle.
Leash
Smooth, auto-retractable leash
Our 3' FreeRun leash has a comfortable soft grip handle and smoothly auto-retracts. The attached carabinier lets you tie up easily for a quick stop to grab a coffee before heading to the hills for your next adventure.
HARNESS
Adjustable, comfort fit harness
The harness comes in two highly adjustable sizes. S-M and M-L for a custom fit. Our harness is made with the most durable, comfortable material available.  We added reflective bands for nighttime visibility. There are two release buckles for quick and easy on and off without having to pull over the dog's head. They can just step in.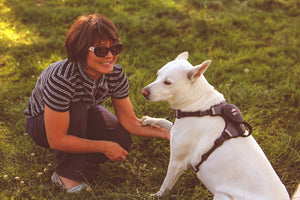 Bring your best friend on
all your adventures...
The FreeRun Leash has truly changed my outdoor time with my dog. Cody has freedom to play and I have peace of mind knowing that I can quickly and safely have him under control. 

Julle Crumrine
I never felt safe letting my dogs off leash before I purchased the FreeRun Leash. Yes, I was the one with the leashes dragging through the mud and who knows what else. With the leash always attached and easy access, there is no more worrying if I can catch them when playtime at the dog park is over.

Joe Martino
With two dogs, the FreeRun Leashes have solved all my tangled leash issues once and for all. Love it!

Pam Kirwin